Newsletter 13 October 2021
Filter Content
Newsletter 13 October 2021
Thursday 14 October

School Advisory Committee AGM

Monday 18 October

Prep face to face learning

Tuesday 19 October

Prep face to face learning




Wednesday 20 October

Prep face to face learning 




Thursday 21 October

Years 1&2 face to face learning

Friday 22 October

Years 1&2  face to face learning

Monday 25 October

Prep face to face learning

Tuesday 26 October

Years 3&4 face to face learning

Prep face to face learning

Wednesday 27 October

Years 3&4 face to face learning

Prep face to face learning



Welcome to Term Four
Many teachers, students and no doubt parents are nervous and or anxious about the return to face to face learning, whilst others are thoroughly excited about no longer having to juggle work and remote learning! 
The connectedness initiative in the last few weeks of Term Three was a wonderful success and enjoyed by all. Education Support Officers, teachers, leaders, students and parents enjoyed the opportunity to choose activities, interact with others aside from classmates.
This week and next the school has changed its focus, whilst still connectedness, teachers have been asked to provide two skills based but fun learning opportunities be it a warm up or game in both literacy and numeracy via a Google Meet.
The Specialist teaching team are complementing this initiative with a selection of activities designed for particular levels or combined levels and Education Support Officers a range of activities aimed at P-6 on Friday afternoons. 
Return to face to face learning
Next week, we welcome the return of Preps on Monday, Tuesday and Wednesday. On Thursday and Friday we look forward to seeing our Year 1 and Year 2 students return. 
As you would be aware, the return to face to face learning is per the Victorian Government's Roadmap. The linked document outlines the days/ dates for each level and will assist with forward planning.
School Fee Concessions
Many in our school community continue to face financial impacts as a result of the COVID-19 pandemic.
We are committed to supporting families experiencing financial challenges through our School Fee Concession programs, and encourage any parent/carer/guardian experiencing difficulties to contact us regarding fee assistance.

Please contact Margaret Lonergan to explore confidential financial support arrangements or to obtain further information. Phone 97021466  or email accounts@stcberwick.catholic.edu.au
Term Four School Fees
Fee accounts for Term 4 will be issued to each family this week. We ask that fees for the Term Four be settled by Friday, 5 November, unless alternative arrangements have been discussed and made. 
School Fee Credits
Credits have yet to be processed for those events that have been cancelled due to restrictions and lockdowns.
If fees have been paid in full, credits will be applied to the 2022 fee statement where families have children enrolled in 2022. 

If fees have been paid in full, credits will be refunded if there are no children enrolled at St Catherine's in 2022.

Alternatively, families impacted by these cancellations may choose to pay only the amount outstanding by factoring in the anticipated credits for:
Swimming and Water Safety Program: Years Prep, Year 2, Year 4, Year 6

Canberra / Kookaburra Camp: Year 6
2022 School Fees
Further information about fees for the 2022 school year will be available soon.
General Matters
St Catherine's School Advisory Committee Annual General Meeting - St Catherine's School Advisory Committee Annual General Meeting will take place virtually tomorrow evening.
We would like to acknowledge the tireless work and dedication of the Committee Members

Anthony Taranto
Jeremy Shu
Elyssa Hackett
Melissa Musgrove
Stacey Odwazny
Joanne Riley (P&F Representative)

In particular we would like to sincerely thank departing members of the School Advisory Committee: Anthony Taranto who has supported the school in this capacity for the last four years and Jeremy Shu for the last two years. We appreciate their time and dedication and commitment to our school and community.
2021 Enrolments  
As the school undertakes the enormous process of preparations for the upcoming school year. it is important that we are aware of possible movements both in and out of the school. The final weeks of any school year can be an enormously busy time for families insofar as transfers due to work or other personal circumstances.
It is essential that we are made aware as soon as is practicable of either families who may be transferring or of families who may be wishing to secure an enrolment position.
Class placement request
Requests are now closed and no longer possible given the extensive work and lengthy work required to construct 2022 classes.
Students on return to face to face learning and teaching will have the opportunity once settled in, to select 'Five Friends'. The school works hard to ensure that each student at St Catherine's is placed at least one of their friends in 2022. 
Parent requests received for consideration were extensive and varied. Requests with educational reason will be given the highest priority.
We had many parents who requested that their child be in a class with a teacher who is full time. The workforce is now changed and so we have many amazing part time teachers who whilst working part time due to parental leave, give full time commitment to providing the very best opportunities and learning for their students.
A recurring theme in the many many received requests for placement consideration were around separation from other students and sometimes the list was long.
A fundamental belief for Catholic schools is that each person is enfolded in God's love and is made in the image of God (Genesis 1:27). The values and teachings of Jesus show all people 'the way, the truth and the life' (John 14:6). In working with young people in Catholic schools, God's presence and spirit are shown through words and actions.
To nurture wellbeing, the unique story, giftedness and temperament of every child must be understood and valued in a way that enables love, respect, compassion, forgiveness and hope to thrive.
This reflects the belief that every child is sacred and encompassed in God's love and as such their inherent dignity must be preserved so that they may come into the fullness of life.
Andrea Kershaw
Acting Principal
Hello Everyone
It is wonderful to see that the days are getting longer and hopefully a little bit warmer.
October is the Mission Month and we will be celebrating our Catholic identity by having a Mission Action Day on Friday 5th November which coincides with all students returning to school. 
Each year Catholic Missions focus on a country, this year it is Thailand and the Good Shepherd Sisters in Bangkok Kindergarten Centre where vulnerable children can be taken care of while their parents are at work. The Mission Week focus is an opportunity to immerse our students in the work of Catholic Missions and better understand why it is important to help others. As Jesus said 'Love one another as I have loved you.' 
Catholic Missions uses the Socktober program to educate students by utilising the Head, Heart, Hands framework to help students think deeply about why they are participating and raising funds for missionary works. Through the rich resources and learning pathways developed for Socktober by Catholic Missions, students first get their heads around the reality of children in developing countries. Our 360 virtual reality experiences, first-hand storytelling from partners, and formation activities throughout Socktober fill students' hearts with love and compassion for the people we are supporting. This compels us to use our hands to take action. We pray, advocate for and financially support children in need, in whatever way we can. More information will be provided closer to the time of Mission Action Day.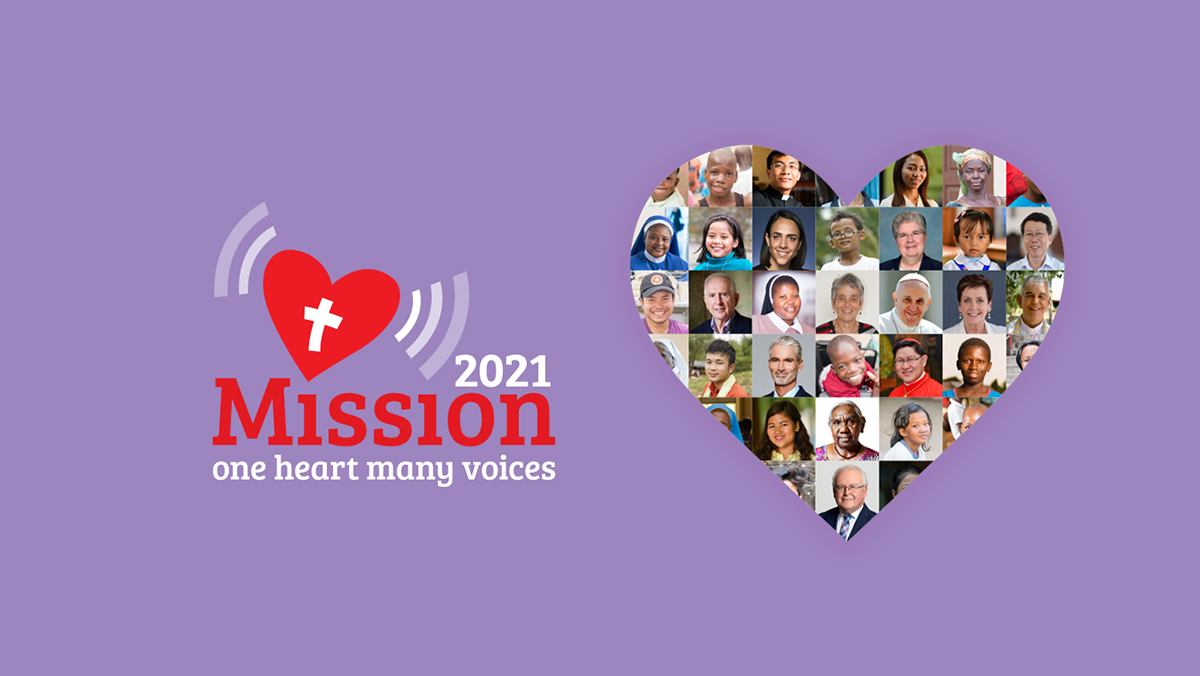 Parish Sacramental Program
The Parish Sacramental Program is still unable to resume due to COVID 19 restrictions; however when it does, this information will be conveyed to you as soon as possible. 
You may like to pray this prayer from Pope Francis' Mission Prayer for Mission Month:
Yours in Faith
Nerida Byrden
Leader Catholic Identity Religious Education
A note from our school leaders Sam, Tahlia, Ali and Rajveer...
PARENT OVERVIEWS
A note from our SHINE Leaders Brenlie and Olie: 
Week 2 stay safe: As we jump into the new term in remote learning we remember that our SHINE focus is STAY SAFE. Staying safe online is very important even in your normal life. You can do this by using websites that are kid-friendly, attending the roll to tell the teacher you're online, working on the schedule so you don't miss any Google Meets, and not using your iPad for unnecessary use during school time.
Week 4 Interacting Appropriately: As we ease back into onsite learning it's important to recap how we can interact appropriately in a school environment. It's crucial that every student is reminded how to interact appropriately during play. During play, students should be respectful of their classmates and teachers, be open to the contribution of others, use their manners and maintain their personal space. We also ensure to speak kindly to one another in all the games we play. 
SHINE MATRIX 
Our St Catherine's SHINE matrix helps us to remember our school-wide expectations when we are learning, transitioning between spaces and during play. This document informs our weekly SHINE focus in which we promote and acknowledge students within the school who SHINE!
....
We are so excited to be welcoming all students of St Catherine's back to school on our return to face to face learning and teaching over the coming weeks. All our teachers and staff cannot wait to see theml!!
Here are a few helpful reminders for students as we transition back
Remember to pack your school hat, sunscreen and a drink bottle

Pack your lunch boxes for fruit break, snack and lunch times 

Don't forget to pack face masks (and some spares, just in case). Think about packing FIVE at the beginning of the week - one for each day!
Face Masks
Face masks are required for students in Years 3-6 unless there is lawful reason for not wearing a face mask.
Whilst not requirement for Prep to Year 2 students, it is strongly recommended that that they wear a face mask indoors at school
All students are required to supply their own masks. Masks recommended are
disposable
triple layered if material
Masks are not supplied by the school.
Lawful reason for not wearing a face mask
There are a number of lawful reasons for not wearing a face mask, including those who are unable to wear a face mask due to the nature of disability, medical or mental health concerns.

COVID SAFE PRACTICES 
Please be assured that all teachers and staff will promote and apply COVID safe practices on site. 
This includes

easy access to hand sanitiser in all learning areas 

supporting students to regularly wash their hands with soap and water

opening windows and doors to increase ventilation, weather permitting

regular cleaning of all high touch surfaces
At St Catherine's we have a day cleaning who works around the school keeping shared areas nice and clean.
Student Arrivals and Departures
Covid safe practices also mean that:
Students can be collected from the Rebound Wall

Students who walk enter and exit the school site independently via the pedestrian gate near the Adventure Playground

Students who ride or scoot enter via the pedestrian gate and walk their bike scooter to the the bike racks and exit under supervision via the double gates.

Students can be dropped off and picked up via our supervised Kiss and Go zone.
A reminder for families at the KISS AND GO ZONE
In order to promote independence and minimise contact, we ask that car doors are opened by children independently.
Please note: staff, are not permitted to buckle children into car seats. 
Further details and reminders about the drop off, pick up procedure, start times and finish times will be shared with families via email communications through PAM.
YEAR 6 COMMEMORATIVE BADGE 2021
 IN STOCK NOW $10
Place your Order through QKR!
Uniform Purchases can be made via QKR! Contact the Uniform Shop Owner Jan Kennewell via the contact details on the school's website.
Uniform Requirements
When students return to face to face learning they need to:
wear their formal summer school uniform on all days except their Sports day where they wear their full sports uniform.
Students on return to face to face learning must:
wear their school hat when outside and at playtimes.
The school is Sunsmart and so has a 'no hat, no play' policy.
Socks
Girls wear WHITE socks with their summer dress
Girls wear GREY socks if wearing the grey skort
Boys wear GREY socks with their summer shorts
All students wear WHITE socks with the sports uniform
Book Club
Issue 8 is now available for delivery only
The closing date for this issue is

3 December
What happened to Issue 7?
Issue 7 will actually come out after issue 8.
Confused?
Traditionally Issue 7 is Book Club's BUMPER issue.
This BUMPER issue will come out in hard copy / brochure format.
The release of Issue 7 has been  timed for when students return to face to face learning. 
| | | |
| --- | --- | --- |
| Mitchell C | Ava S | Abigail T |
| Domenik B | Isabella B | Seya D |
| Chloe LS | Abbey S | Mia G |
| Sara N | Harrison H | Emmanuella N |
| Levi G | Lexi G | Finn W |
| Hannah Bikaako | Abel Joshy | Brianna Jundis |
| Freddie O'Dea | Zara Ventieri | Grace G |
| Kasiana O | Aum Z | Summer S |
| Alanna D | Bianca E | Nethmi F |
| Matias B | Ethan D | Kundai M |
| Neil R | Georgia R | Flynn S |
| | | |
| | | |
Congratulations
Kasiana and Victoria O who completed a very important fundraiser for Jeans for Genes over the school holidays where they created their own way to raise awareness!
The girls wore Jeans for two weeks straight and uploaded photos every day on social media in support of Jeans for Genes.
Kasiana and Victoria have now raised $1248 and are in 5th place as a team across Australia.
The girls really wanted to do something special over the school holidays; something that made a difference in society.
This was a great initiative because aligns with our Catholic Social Traditions; learning about Compassion, the common good, helping and supporting those in need.
The Jeans for Genes organisation was selected by the girls because they know how important the research is and what the organisation does and because every child deserves an equal chance in life.
A wonderful endeavour from two of our generous and caring students. 

Thursday 28 October

Years 5&6 face to face learning

Year 1&2 face to face learning

Friday 29 October

Years 1&2 face to face learning

Years 5&6 face to face learning

Year 2 SHINE Awards Presentation
Year 3 SHINE Awards Presentation
Year 5 SHINE Awards Presentation
Year 6 SHINE Awards Presentation

Monday 1 November

Tuesday 2 November

Melbourne Cup Public Holiday

Wednesday 3 November

Prep face to face learning

Years 3&4 face to face learning

Thursday 4 November

Years 1&2 face to face learning

Years 5&6 face to face learnig

Friday 5 November

ALL Students

face to face learning

Prep SHINE Awards Presentation

Year 1 SHINE Awards Presentation

Year 4 SHINE Awards Presentation

Library borrowing - Junior & Year 6 -(suspended)

Wednesday 10 November

Parents and Friends Committee Meeting

Thursday 11 November

School Advisory Committee Meeting 

Friday 12 November

Library borrowing - Senior 3-6 - (suspended)

Year 2 SHINE Awards Presentation
Year 3 SHINE Awards Presentation
Year 5 SHINE Awards Presentation
Year 6 SHINE Awards Presentation

Friday 19 November

Library borrowing - Junior & Year 6 - (suspended)

Prep SHINE Awards Presentation

Year 1 SHINE Awards Presentation

Year 4 SHINE Awards Presentation

Wednesday 24 November

Library Stocktake (no more student loans)

Friday 26 November

Year 2 SHINE Awards Presentation
Year 3 SHINE Awards Presentation
Year 5 SHINE Awards Presentation
Year 6 SHINE Awards Presentation




Friday 3 December 

Prep SHINE Awards Presentation

Year 1 SHINE Awards Presentation

Year 4 SHINE Awards Presentation

Monday 6 December

Device Free Week: All devices Years 3-6 to be returned.

Tuesday 7 December 

Wednesday 8 December 

Parents and Friends Committee Meeting

Friday 10 December

Year 2 SHINE Awards Presentation
Year 3 SHINE Awards Presentation
Year 5 SHINE Awards Presentation
Year 6 SHINE Awards Presentation

Wednesday 15 December 

Bump Up Day

Last Day of School for students

Thursday 16 December 

Friday 17 December 

School Closure

Term 4 concludes